TT 200-ST Stationary Transmitter
3 Operation modes
Selectable microphone and aux inputs with gain controls
Monitor headphone/headset socket with volume control
Aux and loop output to feed additional transmitters
Adjustable microphone gain and RF power
Can be desktop or rack mounted (rack shelf available separately)
Compact size – only half of 1U 19" rack space
42 Channels with up to 15 separate groups
No limit to the size of each group
Programmable backlit high contrast OLED display with menu/jog dial
Back lit Aux/Feed thru buttons for interpretation modes
Integrated Bluetooth
Software control
1/2 Wave antenna
Up to 200m range
Compatible with TT 200-R receivers
The digital Tourtalk TT 200-ST stationary transmitter is designed for fixed applications where the transmitter is to be mains powered. This transmitter is ideal for temporary and permanent installations.

This transmitter features a combination of connections to suit any application. These include balanced combi XLR/6.35mm jack input (switchable between line, mic or mic with phantom power), twin phono line input, twin phono line output, 6.35mm jack loop input and output and a 3.5mm jack headphone/headset socket.
A popular accessory for the Tourtalk TT 200-ST is the TT-HQH headset. This one-piece headset comprises dual headphones and a boom microphone. The headset enables the user to monitor an independent input source (via the headphones) and speak simultaneously into the transmitter (via the boom microphone). This is ideal for audio description at a theatre, where the describer can monitor the show relay system and describe at the same time without needing additional equipment.
The Tourtalk TT 200-ST stationary transmitter is ideal for pre-recorded commentary at tourist sites, audio description at sporting grounds/theatres and many more applications such as-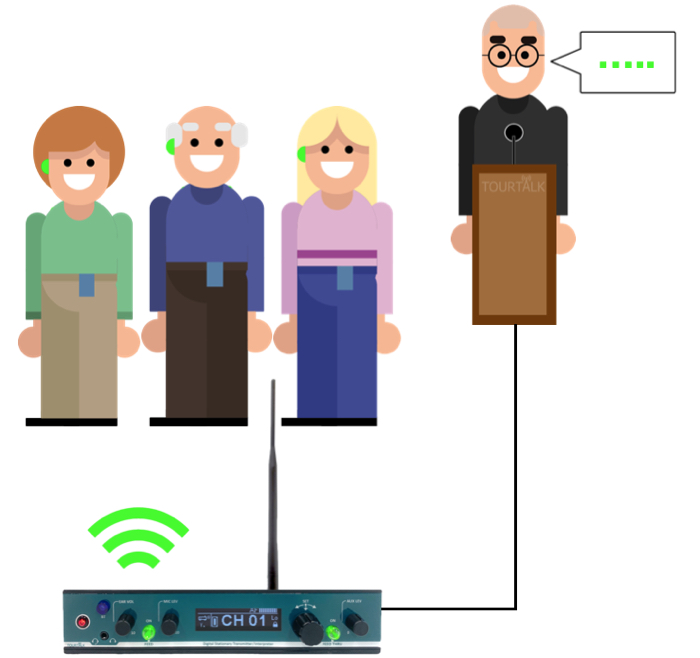 Silent conferences where separate breakout group meetings are held within the same room without disturbing each other.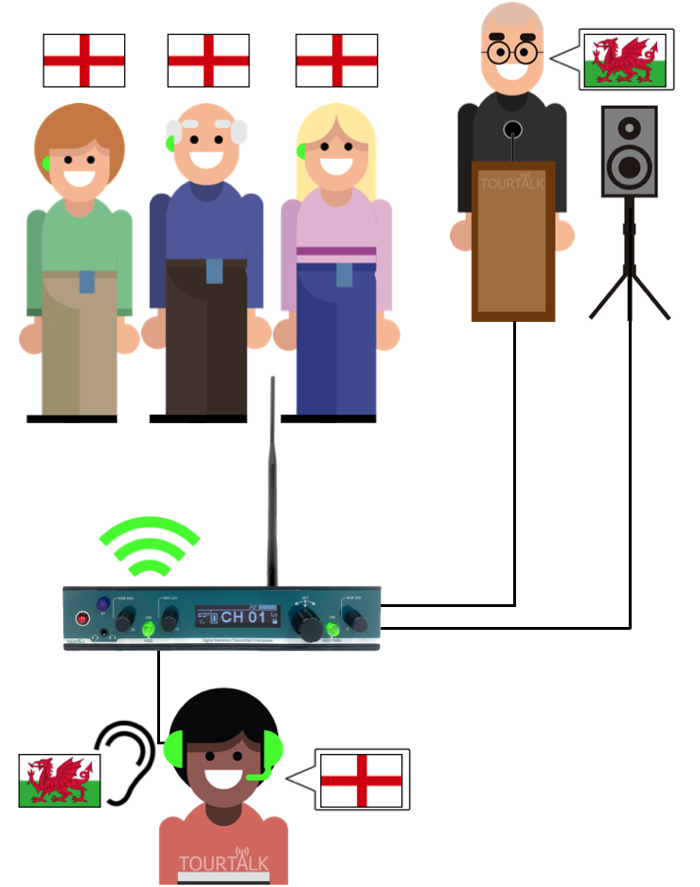 Simultaneous interpretation at international meetings.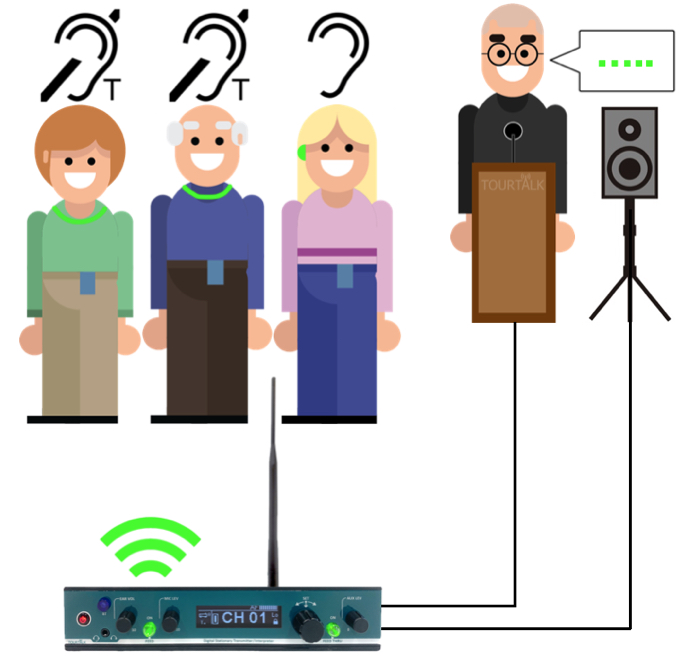 Hearing support to assist people that are hard-of-hearing, as an alternative to an induction loop or infrared hearing system.
Delivery Includes
1 TT 200-ST stationary transmitter
Technical Data
Frequency range: 823-832MHz & 863-865MHz
Channels: 42
Transmission power: Hi 30mW Mid 20mW Low 10mW
Transmission range: ≤ 200m (line of sight)
Dimension (mm): 210 x 215 x 52
Weight (kg): 1.25
Operating temperature: -10°C – +50 °C
Features and specifications subject to change without notice