TT 100-T Bodypack Transmitter
Dual presenter mode to enable two tour guides to speak on the same channel
Wireless channel sync to receivers
Integrated condenser microphone
Microphone socket to connect the supplied lapel microphone
Microphone mute switch with status LED
Aux socket and lead to connect any audio device with a 3.5mm headphone socket
Integrated belt-clip or can be worn on the supplied lanyard
Lightweight-only 75g!
Easy to use compact design
100 Selectable licence-free channels
Lockable channel feature for reliability
Single AA battery operation
Clear LCD with battery status, presenter mode and channel number
The Tourtalk TT 100-T digital transmitter has all the features you will ever need; including dual presenter mode, which enables two presenters to communicate to the same group, and wireless channel sync.
The transmitter features an integrated microphone and microphone socket, microphone mute switch, and aux-in socket to enable the connection of a smartphone/media player. The transmitter is supplied complete with lapel microphone, aux input lead and lanyard.
The lapel microphone enables the presenter to have total freedom of movement during the event. The presenter can then operate with both hands-free making it easier to gesture, and allows them to relax and concentrate on their presentation.
By connecting a smartphone/media player (with the supplied lead) to the transmitter, a pre-recorded commentary or music can be played into the system. This can enhance the event for your guests and reduce the strain on the presenter's voice. With a microphone mute switch the presenter can choose to talk over the playback if necessary.
Tourtalk TT 100 system showing single presenter mode in use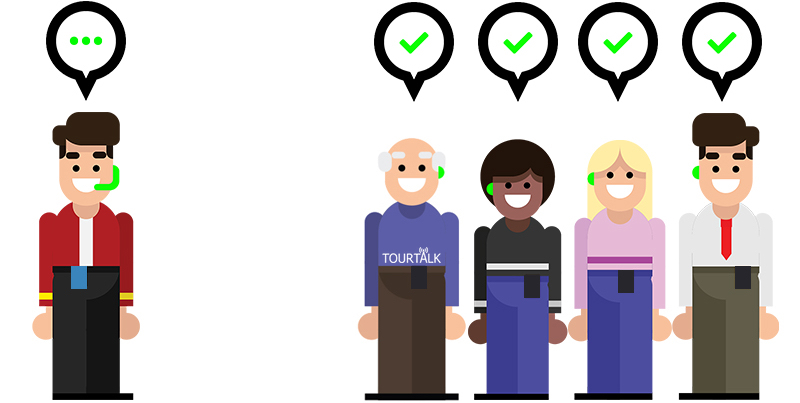 Tourtalk TT 100 system showing dual presenter mode in use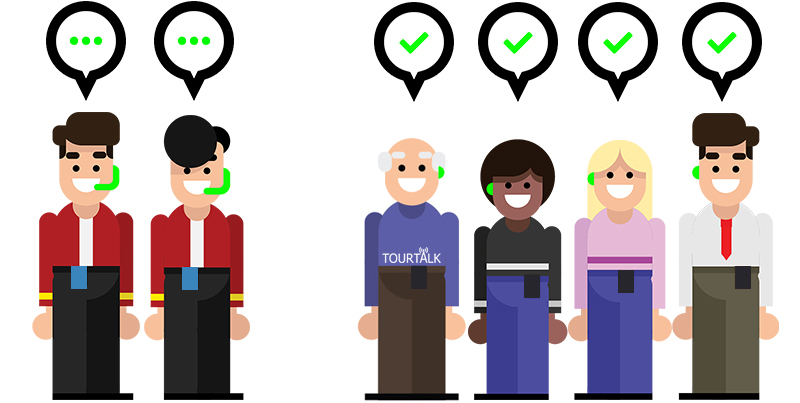 Dual presenter mode is ideal if two presenters need to communicate to the same audience. Alternatively, the main presenter can use one transmitter, and pass the other transmitter for question and answer sessions or interviews, ensuring everybody hears what is said.
Channel sync enables the transmitter to wirelessly sync its channel to a batch of receivers.
The transmitter has 100 licence-free channels and up to 20 groups can operate within the same environment. This makes it ideal for large organisations that run multiple guided tours on the same site or international conferences in multiple languages for foreign delegates.
As this compact transmitter operates on a single AA battery it is very lightweight-only 75g. With a battery life of up to 11hrs it will last even the longest event!
The Tourtalk TT 100 system is ideal for guided tours, on the job training, simultaneous interpretation, audio description, hearing assistance, silent conferencing and many more applications.
Delivery Includes
1 TT 100-T transmitter
1 TT-LM lapel microphone
1 TT-AI aux-in lead
1 TT-LA lanyard
1 TT-RB1 rechargeable battery
or
1 TT-AB1 alkaline battery
Technical Data
Frequency range: 2.4 GHz
Channels: 100
Transmission power: ≤10mW
Transmission range: ≤ 30m (line of sight)
Power supply: 1 x AA battery
Typical battery life: 10/11hrs NiMh/Alkaline
Dimension (mm): 24 x 41 x 102
Weight: 75 g (with battery)
Operating temperature: -10°C – +50 °C
Features and specifications subject to change without notice