TT 300 Bodypack Transceiver
Digital noise cancelling technology
Full-duplex two-way communication
Selectable encryption for private and secure discussions
Any device can be a Master, Sub-Master or Listen only
Wireless channel sync
42 Channels
No limit to the size of each group
Channel lock for reliability
Backlit high contrast OLED display
Up to 100m range
All day battery life
Illuminated talk button (latching or momentary PTT/PTM)
Adjustable microphone gain and RF power
Completely wireless so no installation is required
Hearing Aid Compatible (HAC)
Aux-in socket with audio priority
Wide range of accessories available
The Tourtalk TT 300 is compact and lightweight digital transceiver that enables full-duplex two-way communication between people. With up to six simultaneous talkers and unlimited listeners per group, TT 300 is the perfect solution for any organisations that require simple, secure, hands-free staff discussion with unlimited movement.
The universal design enables any TT 300 to be setup as a Master unit, Sub-Master unit or Listen unit.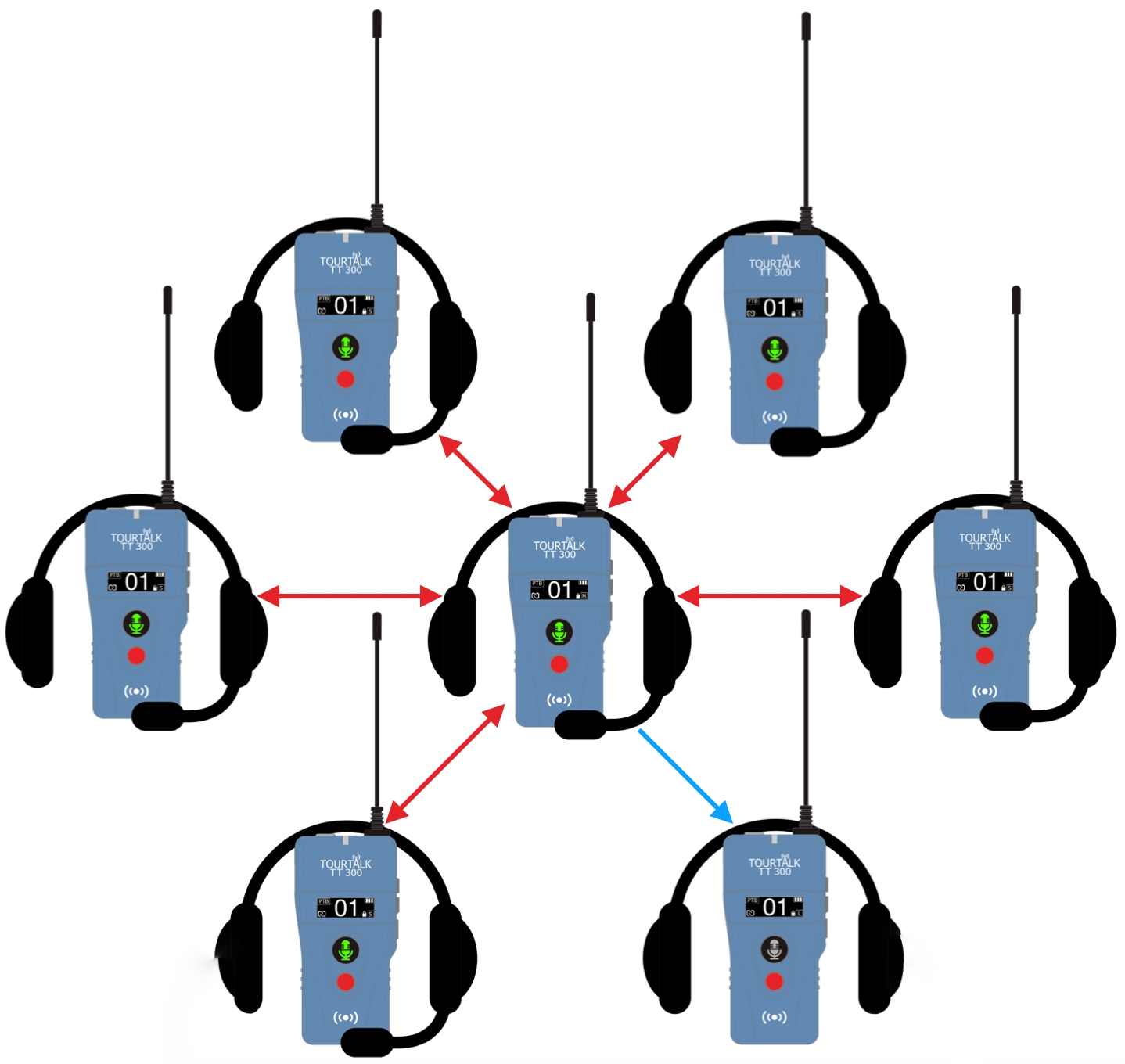 Master unit: Used by the main presenter (has priority function).
Sub-Master unit: Used by other participants to speak to the group (when the main presenter permits).
Listen unit: Used by any observers to hear only.
Tourtalk TT 300 system showing master unit with five slave units and one listen only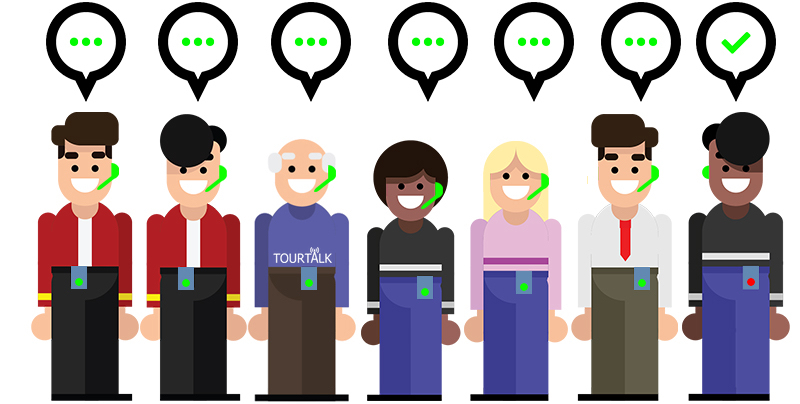 Tourtalk TT 300 system showing master unit with master priority speaking mode engaged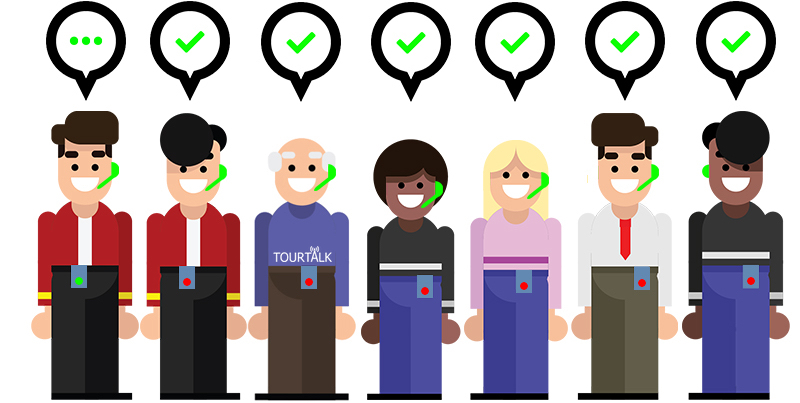 The TT 300 system allows the main presenter to engage with their audience allowing them to fully participate in open conversation, ask any questions, or make comments. The main presenter can interrupt (and disable the talking rights) of the participants at any time to maintain control of the proceedings.

Up to six users can talk simultaneously as if on the same telephone call, making it ideal for hands-free open discussion.
Each transceiver is supplied complete with lightweight single ear headset, aux input lead, batteries, and lanyard, enabling each user to have total freedom of movement during the event.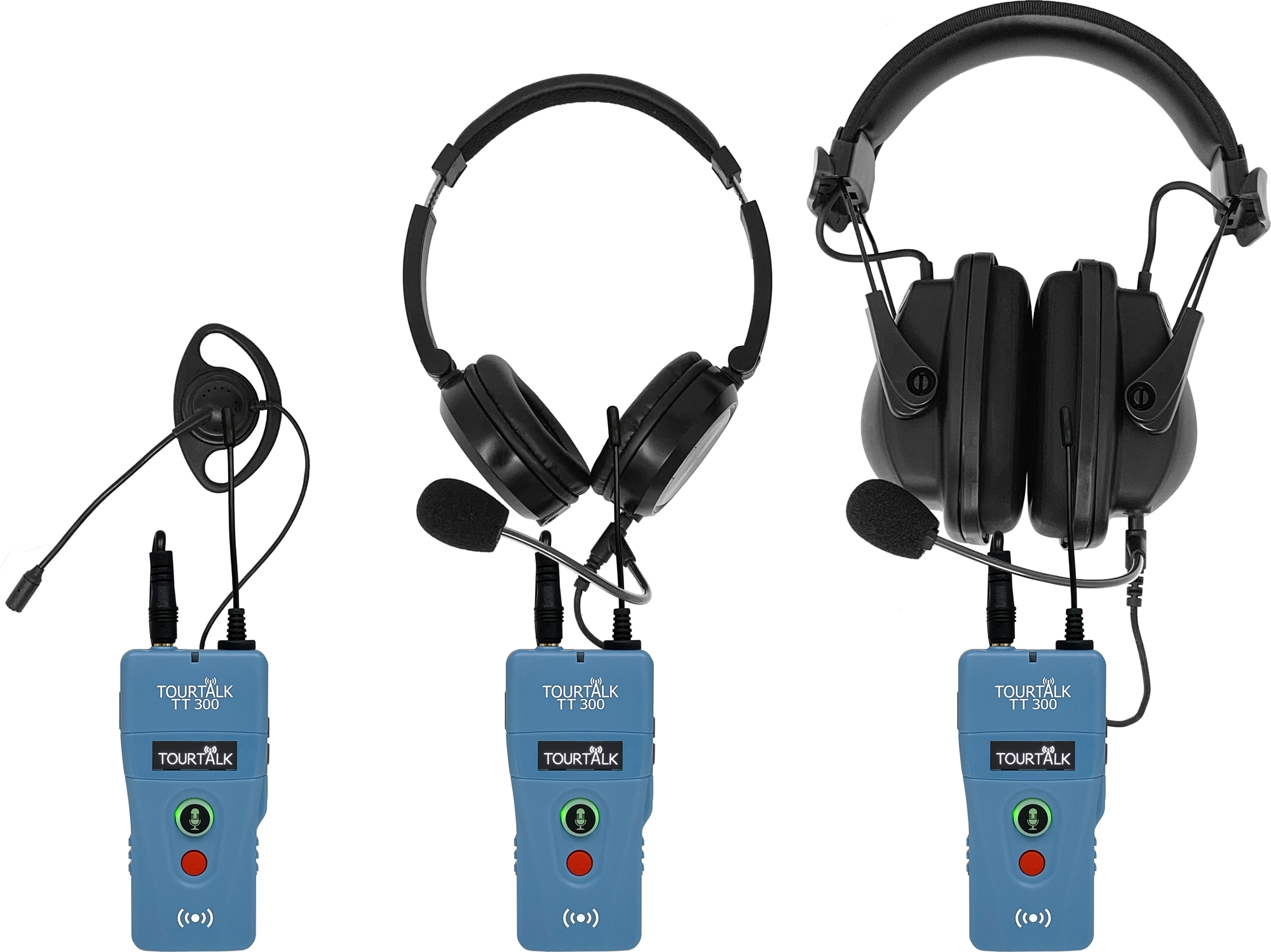 A wide range of headsets are available for any environment so whether meeting at a quiet outdoor location or conducting a Gemba walk on the shop floor of a noisy industrial plant, TT 300 is the perfect solution to ensure everybody can be heard.
Delivery Includes
1 TT 300 transceiver
1 TT-SEH headset
1 TT-AI aux-in lead
1 TT-LA lanyard
2 TT-RB1 rechargeable battery
or
2 TT-AB1 alkaline battery
Technical Data
Total channels: 42
Frequency range: 823-832MHz
Channels: 35
Live headsets per channel: Up to 3
Frequency range: 863-865MHz
Channels: 7
Live headsets per channel: Up to 6 with optional encryption
Transmission power: Hi 20mW Low 10mW
Transmission range: ≤ 100m (line of sight)
Power supply: 2 x AA battery
Typical battery life: 21hrs
Dimensions: 46.5 x 33 x 96 mm (with belt clip but without antenna)
Weight: 99g (with batteries)
Operating temperature 0°C – +40 °C
Features and specifications subject to change without notice