Tourtalk TT 40 is a portable wireless communication system that helps a presenter to speak to a group of people by overcoming background noise and distance.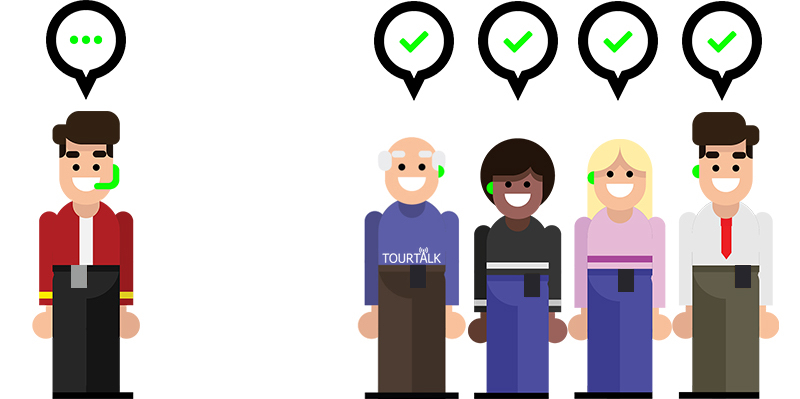 Tourtalk is easy to set up and use, operates up to a distance of 120 metres and accommodates a limitless number of users.
This radio communication system enables the presenter to speak at a comfortable level to the group whilst ensuring they are clearly heard. Up to 12 separate groups can operate simultaneously within the same environment without cross interference (depending on local conditions).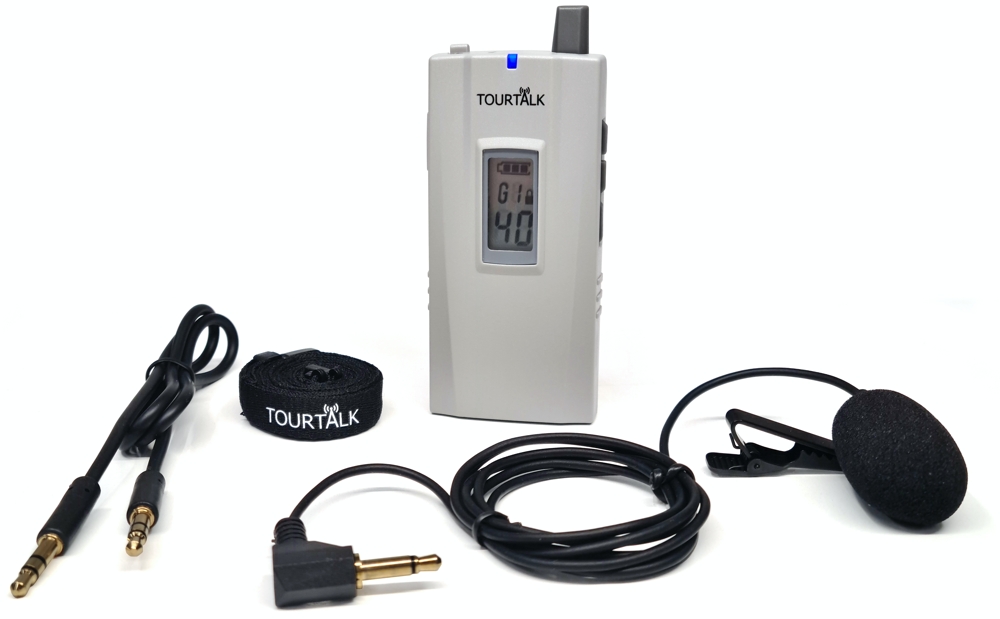 The presenter uses a transmitter. They can either speak into the integrated microphone, plug in the (supplied) microphone, or connect another audio device e.g. media player, to communicate with the group. The audio message is then transmitted on a specific channel (frequency) to the receivers.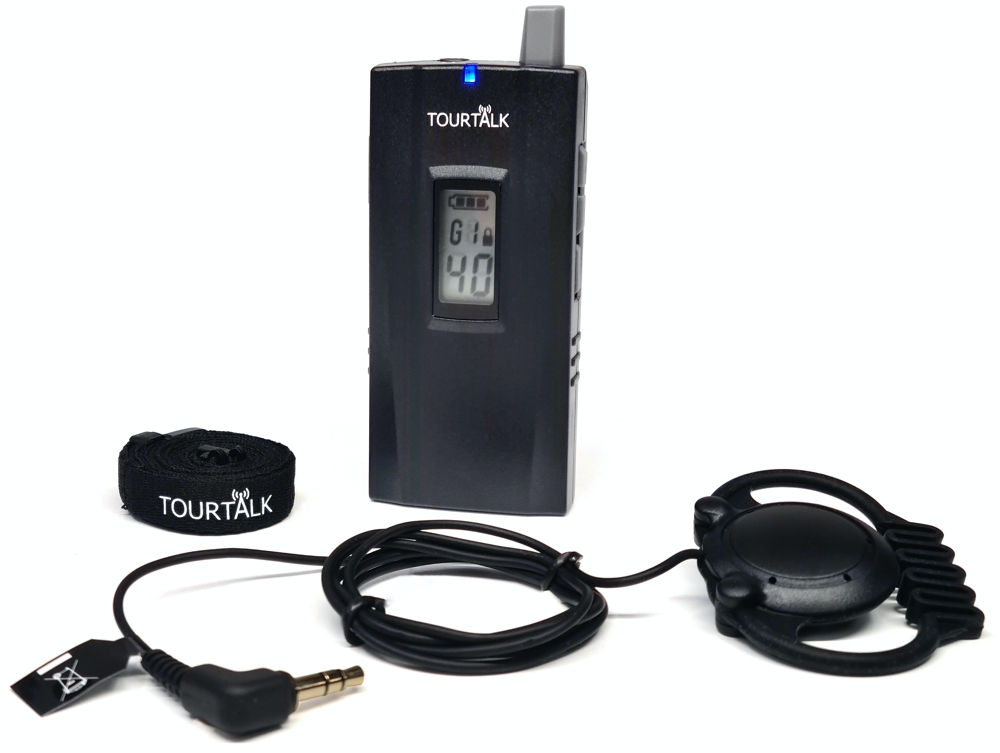 The audience members each use a receiver set to the same frequency (channel) as the transmitter. The user simply connects the (supplied) earphone to hear the message and adjusts their volume to a comfortable level.
Both the transmitter and receivers are supplied with a lanyard and clothing clip to enable hands-free use. Each unit operates on a single AA battery. Either Alkaline or Ni-Mh rechargeable batteries can be used.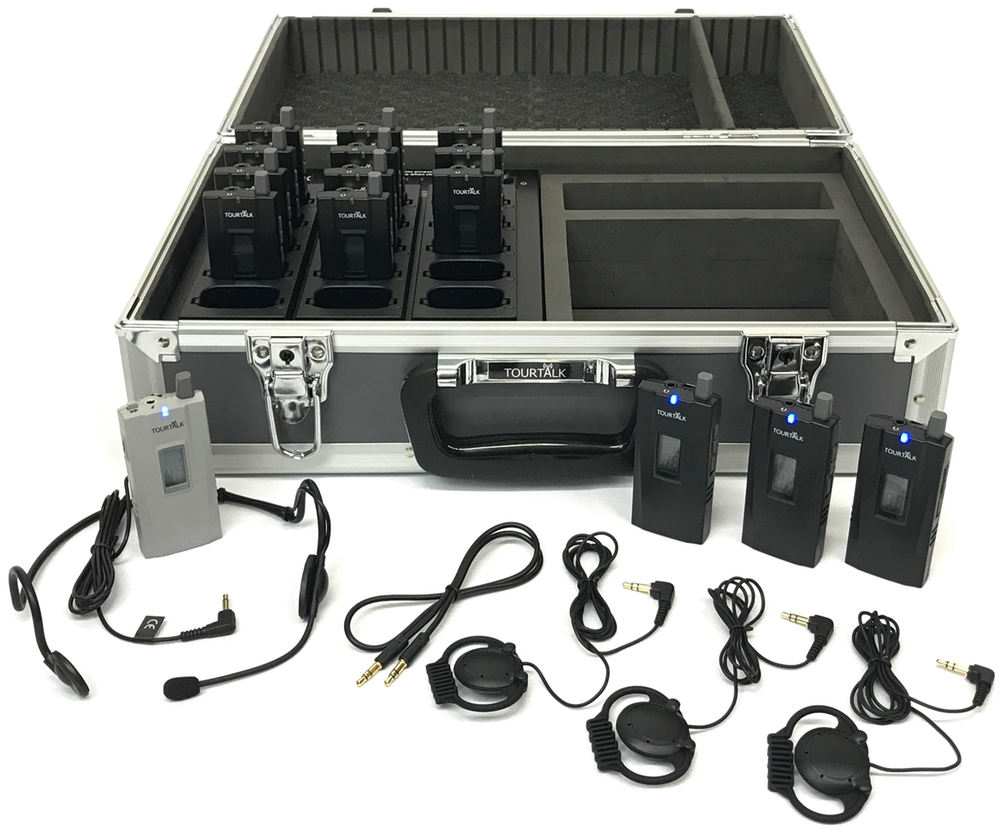 A charger/transport case provides protection and secure storage for the units between events.
Whether a tour guide is speaking to tourists in a cathedral, or a salesman is talking to visitors in a noisy workshop, a Tourtalk TT 40 system can be used to provide a professional experience.
A wide range of accessories for the system can be found here.
Typical examples of use for Tourtalk TT 40 systems are:
Guided visitor tours in either noisy, or noise sensitive environments e.g. Factory tours, museums, near wildlife.
Language interpretation for tours with foreign guests or international meetings.
Hearing support for people who are hard of hearing.
Audio description to assist blind or partially sighted people.
Command training for businesses or sports.
Silent conferences for presentations in exhibition spaces.
....and many more applications.
Features of the Tourtalk TT 40 system include:
Integrated microphone on transmitter with mute switch
Aux-in for connection of external audio source e.g. media player/smartphone
Mic-in for connection of external microphone
Transmitter supplied with lapel microphone and aux-in lead
Receiver supplied complete with earphone
Standard 3.5mm socket allows use of headphones or inductive neck loop
40 licence-free channels (within Europe)
Single AA battery operation
Compact and lightweight units-only 75g!
Completely wireless so no installation
Exceptional value for money
Durable and very easy to use
LCD display with selected group, channel and battery status
Up to separate 12 groups can operate simultaneously within the same environment
No limit to amount of receivers per group
Lockable group channel selector for reliable use
Lanyard and belt clip for hands-free operation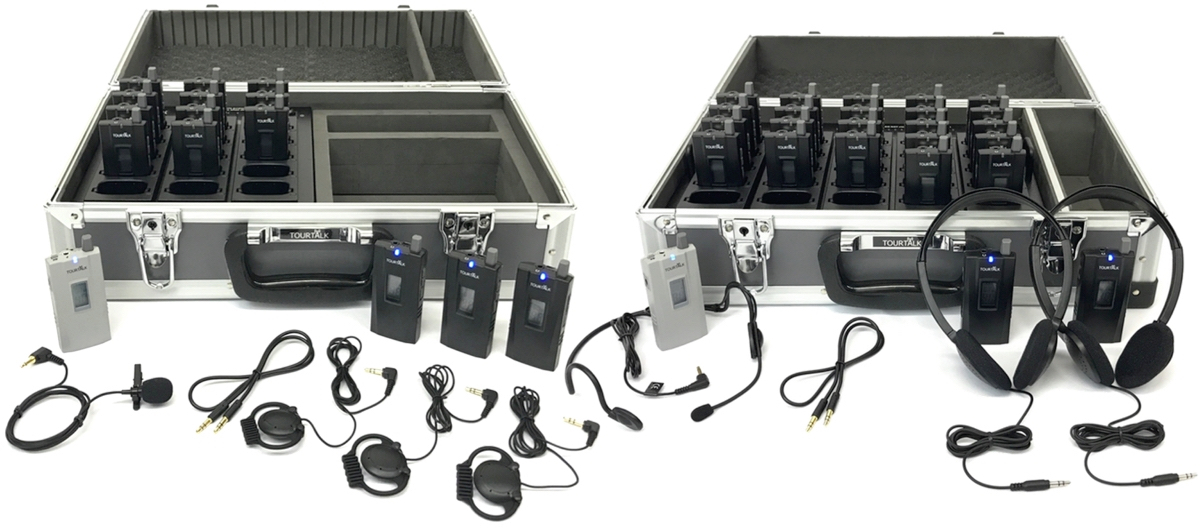 Downloads
Tourtalk TT 40 tour guide system