TT 200-SD24 Social Distancing System
Complete lightweight two-way headset system
Digital noise cancelling technology with full-duplex communication
Wireless channel sync from transmitter to receivers
Channel lock for reliability
Programmable backlit high contrast OLED display
Roll call, gathering and out-of-range alarm with vibration
Up to 150m range
All day battery life
Illuminated talk button on transmitter (latching or momentary PTT/PTM)
Illuminated push-to-talk button on receiver
Adjustable microphone sensitivity, volume and RF power
Completely wireless so no installation is required
Hearing Aid Compatible (HAC) for use with a (optional) TT-NL inductive neck loop
Charger with back lit LCD control panel with channel sync
Power and charging status LEDs
Lightweight yet robust design
Software control for programming transmitters and receivers
Large UK stock levels
Wide range of accessories available
The Tourtalk TT 200-SD24 is a two-way wireless communication package designed to assist staff communication whilst social distancing. The system comprises 1 transmitter with single ear headset (for the supervisor), 24 receivers with earphones (for the staff) and a charger transport case.
Since the outbreak of the Coronavirus (Covid 19) all organisations have to make changes to their procedures so that staff can still work safely and efficiently when spaced at least 2m apart. This has brought fresh challenges to the workplace as managing staff requires clear communication-The Tourtalk TT 200 is the ideal solution!
The Tourtalk TT 200 is a full-duplex communication system that allows the supervisor and staff to fully communicate with each other on the shop floor. The system allows all staff to talk to and be heard by each other; making it more convenient for engaging with each other and responding to customer enquiries.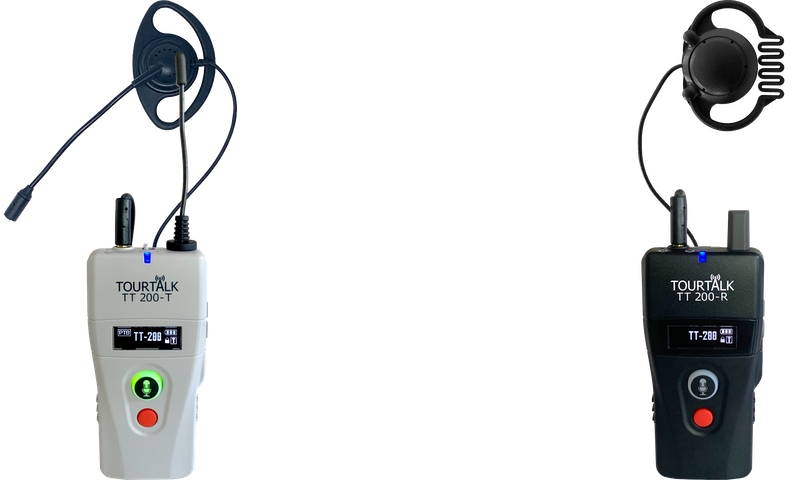 The Tourtalk TT 200-T transmitter is a compact, lightweight, simple to use unit enabling both one-way and two-way communication between the supervisor and staff. The transmitter features an integrated microphone, headset socket (to connect the single ear headset) and microphone talk button. An aux-in socket to enable the connection of a smartphone is also provided.
The Tourtalk TT 200-R receiver features an integrated microphone, earphone/headphone/headset socket and talk back button to enable the user to speak back to the supervisor and other members of staff, when permitted.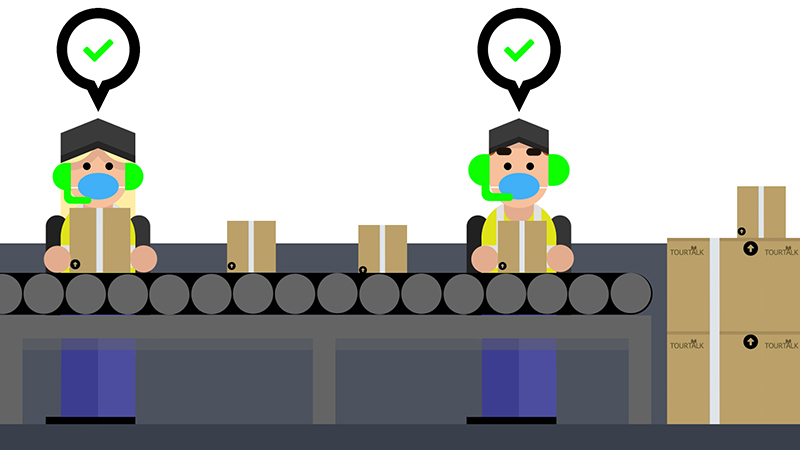 Both the transmitter and receivers are supplied with a belt-clip and lanyard for hands-free use.
The charger transport case simultaneously recharges and stores up to 25 transmitters/receivers. Each charging dock has a battery status LED to indicate when the battery is fully charged. A control panel with LCD screen enables the channel of all docked units to be synced simultaneously within a few seconds, making it even easier and quicker to create a new group.
The detachable charger tray can either be used within the hard case or used as a desktop charger. The Tourtalk system has been designed to be very user friendly and can be setup within minutes. As the system is completely wireless it can be operated both indoors and outdoors and requires no installation.
A wide range of headsets and other accessories are available to suit any environment.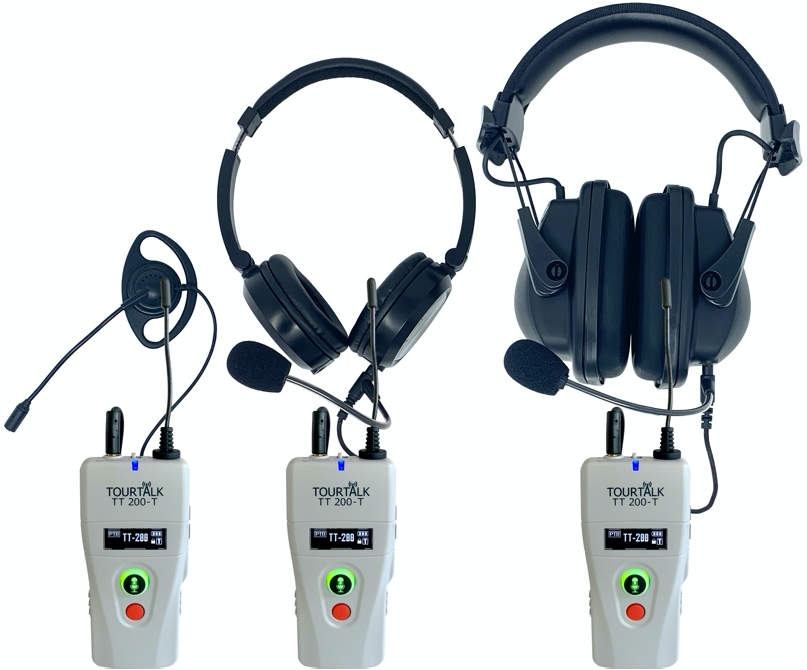 Custom packages can be supplied to suit any organisation's requirements. Please contact us for details.
The Tourtalk TT 200 system is ideal for many different sectors including-
Shops/Supermarkets
Commercial Kitchens/Takeaways
Factories/Manufacturing sites
Garages/MOT testing stations
Warehouses and distribution centres
Post office sorting rooms
Laboratories
Nursing/Care homes
Hospital wards
Pharmacies
Plumbers, Electricians and other construction workers
Maintenance staff
Garden Centres/Hardware stores
And many other organisations

Delivery Includes
1 TT 200-T transmitter
1 TT-SEH headset
1 TT-AI aux-in lead
24 TT 200-R receiver
24 TT-SEP earphones
25 TT-LA lanyard
50 TT-RB1 rechargeable battery
1 TT-C25S charger transport case
Technical Data
TT 200-T Transmitter
Frequency range: 823-832MHz & 863-865MHz
Channels: 42
Transmission power: Hi 30mW Low 10mW
Transmission range: ≤ 150m (line of sight)
Power supply: 2 x AA battery
Typical battery life: 18hrs/20hrs NiMh/Alkaline
Dimension: 46.5 x 33 x 96 mm (with belt clip but without antenna)
Weight: 113 g (with batteries)
TT 200-R Receiver
Frequency range: 823-832MHz & 863-865MHz
Channels: 42
Power supply: 2 x AA battery
Typical battery life: 20/22hrs NiMh/Alkaline
Dimension: 46.5 x 33 x 108 mm (with belt clip and antenna)
Weight: 113 g (with batteries)
TT-SEH Single ear headset
Impedance: 32 Ω
Cable: 1.04 m
Plug: 3.5 mm jack
Weight: 24g
TT-C25S Charger transport case
Power requirements: AC 100-240V, 50/60Hz
Power supply: 12V DC (5A)
Charging docks: 25 transmitters/receivers
Charging time: Approx. 9 hours for a 2600 mAh battery (depending on battery status)
Dimensions: 443mm x 298mm x 170mm
Weight: 5.2kg
Features and specifications subject to change without notice